Keble and The Great War
Letters Home: Eve of First World War
Ralph Kite (1895 – 1916), son of Joseph Kite, an old boy (1876) and Dean of Hobart of Tasmania, came up to Keble in 1913 from Marlborough, but his undergraduate career was interrupted by the war.  He was awarded the Military Cross, and died of wounds incurred at the Battle of the Somme.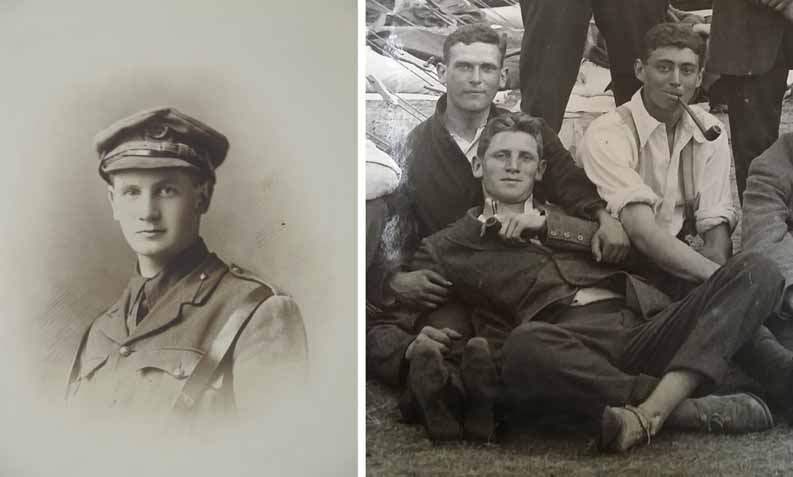 Ralph's tutor was the Reverend Frederick Matheson, a classics scholar, rugby player and an officer in the Oxford University Officer's Training Corps – a most unusual clergyman who in 1914 rose to be commanding officer of the Corps.
These letters are reproduced with permission from the biography by Simon Harris, RBK. A Very Parfit Gentil Knight (Rooke Publishing, 2004). Copies are available from Rooke Publishing, Porch Farm, Clenchwarton, King's Lynn, Norfolk, PE34 4AG.
On furnishing his room:
I am sorry you cried when you left me.  I felt like doing the same.  I hope Muriel will look after you all right.  Do thank her very much for the table cloth; it just fits my table.  I had to spend a lot of money on my room, as they supply practically nothing.  The money goes so quickly here, mainly in subscriptions.  They seem never ending.  I have spent practically nothing on myself so far, except in furniture.  I shall bring back my table next term, also several pictures. ……………… Could you make me some pale pink flappy things to shade the electric lights.  – three of them, two of them as quickly as is convenient.  I just want them to slip on. …………….. There is one old scout who remembers father, even, his initials, because he saw him dive in to save somebody's life.
I got several pictures, which are cheap in Oxford, amongst them Sir Galahad, Napoleon on the Bellerephon- coloured and Boy where's your father coloured, also two of Lawson Wood's.
On money problems:
I had such a fight with Uncle H. about the money.  He treated me as one of his clients, so I treated him as a solicitor-that-might-or-might-not-be-trusted.  He could not take my word for my battels [sic], etc: but must have the bills.  He won in the end in the battle of formality, for on the top of one of his letters he was able to put. 'Private. 2 enclosures.'  I collapsed not feeling equal to it.  On thinking it over I decided to give him an electric shock, so when I did get the money, I acknowledged by return.  That did rather stagger him.  I keep his budget of letters as typical of what an Uncle should be to a nephew.  He was rude in some of his letters, but I was always scrupulously polite, but freezingly formal.
On Rugby training:
Today I went for a long walk to Woodstock, to keep in some sort of training: we had lunch there, but took the train for most of the way back.  ……………… We have got as far as the finals which we play on Friday against Univ: We are all in pretty strict training.  I am af [afraid] they will beat us, though we ought to have a great game with them.  …………… 'It is quite nice training in this weather.  Early to bed, up early, cold bath, walk round Parks before breakfast.'
On Socialists:
We had some fun with a Socialist meeting last night.  The speaker at the end of the red flag said, pointing to a group of undergrads, 'These leisured young idlers are called the Upper classes, and you, you they call the Great Unwashed'.  Someone began the 'Village Pump', a scuffle ensued and before you could say Jack American, we had pushed the whole crowd on top of the speaker, and captured the flag, which, unfortunately the townees got hold of and returned.  The arrival of the progs: put an end to the proceedings.
On Cricket and OTC:
I have got elected to a cricket club, the Heretics, known, of course, as the 'ticks'.  It is rather an honour, as it is run by the Dean.  Of course it isn't necessary to be a cricketer or even play cricket, though we have a tour.  The colours are suffragette exactly.  On Tuesday we had a corp [sic] drill competition.  We sent in two teams, A and B.  B was composed entirely of first year men. Not only did B beat A, but even won the whole thing, for which we get the Bourne Cup, given for this competition.  This gave the first year immense satisfaction.  The senior years didn't like it a bit.