Keble and the Great War
Victoria Cross, 1915
Lieutenant Benjamin Handley Geary, V. C. (1910)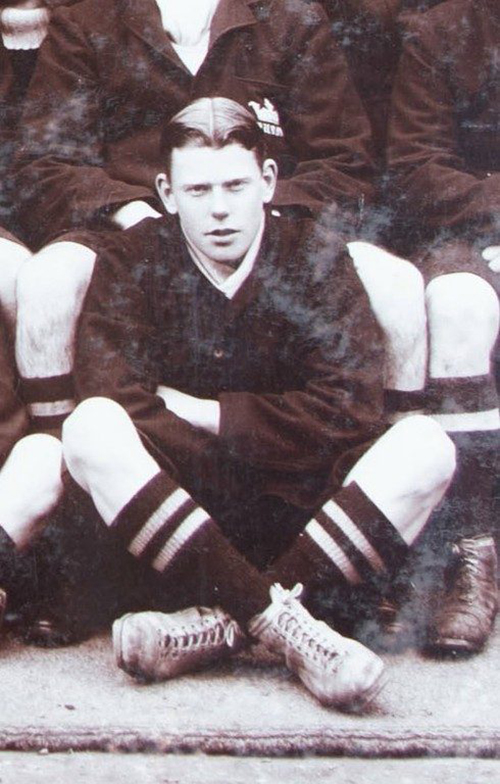 B. H. Geary in the 1910-11 1st Rugby Football XV
14,561 members of the University of Oxford served during the First World War, of that number 16 were awarded the Victoria Cross, the premier award for gallantry. One of these recipients was a Keble member: Second Lieutenant Benjamin Handley Geary (1910).
Geary entered College in Michaelmas Term, 1910. A keen sportsman he was a member of both the 1st Rugby Football XV, 1910 – 1913 and the 1st Hockey XI, 1910 – 1911. Geary also played rugby for Surrey. He was a member of the University Contingent of the Officer's Training Corps. Geary was awarded his B.A., 1914 and then M.A., 1918. Assistant Master at Forest School between 1913 – 1914 Geary then commenced service on 14 August 1914 as Second Lieutenant of the 4th Battalion, East Surrey Regiment, attached to the 1st Battalion; promoted to Lieutenant in 1915. He served in France and Belgium between 1914 – 1915.
Geary was awarded the Victoria Cross in 1915:
For most conspicuous bravery and determination on Hill 60, near Ypres, on April 20th and 21st, 1915, when he held the left crater with his platoon, some men of the Bedfordshire Regiment, and a few reinforcements who came up during the evening and night. The crater was first exposed to very heavy artillery fire which broke down the defences, and afterwards throughout the night to repeated bomb attacks which filled it with dead and wounded. Each attack was, however, repulsed, mainly owing to the splendid personal gallantry and example of 2nd Lt. Geary. At one time he used a rifle with great effect, at another threw hand grenades, and exposed himself with the entire disregard to danger in order to see by the light of flares where the enemy were coming on. In the intervals between the attacks he spent his whole time arranging for the ammunition supply and for reinforcements. He was severely wounded just before daylight on April 21.
('The London Gazette', 15 October 1915)
Following a stay in Convalescent Camp, 1915 – 1916 Geary served again as Captain in France, Belgium and Italy. He went on to take Holy Orders (d. 1921; p. 1922) but gave these up in 1930. Geary moved to Canada in 1930 and married Constance Joan Henderson-Cleland in 1935. He joined the Canadian Army in 1940 serving as Major, 1940 – 1946; Ontario C.S., 1947 – 61; Serjeant-at-Arms, Parliament of Ontario from 1947. Geary then became Governor of the Canadian Corps of Commissionaires; President of the Imperial Officers' Association of Canada and then Brigadier of the Royal Canadian Legion. He died in Canada on 26 May 1976.
Prepared by the previous College Archivist & Records Manager, Eleanor Ward, as part of the College's commemoration of the centenary of the outbreak of the First World War.