History Features
Keble sport, the early years
Keble College was founded during the period when sports assumed a recognisably modern appearance, inside the University and in the country at large. In the first half of the nineteenth century, Oxford sports – including rowing, cricket and field sports – were expensive and socially exclusive, organised around private clubs.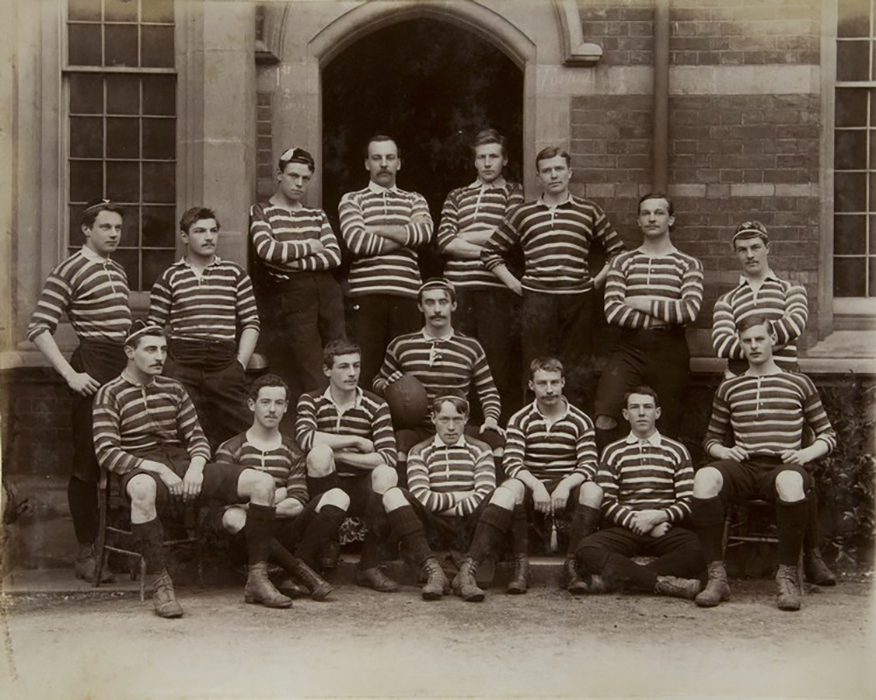 Rugby XV, 1889
But from the 1850s onwards, sports gradually became more inclusive, losing their association with particular elite schools. They were increasingly organised around Colleges, many of which acquired their own grounds and staff, in addition to the University as a whole. These were often funded through newly-founded Amalgamated Clubs, channelling subscriptions and other income into sports, but regulated by College-appointed treasurers. Inter-collegiate competition, including fixtures with Cambridge colleges, flourished. And the rules of many sports, notably football, were standardised, ending the variety of school-based practices. Pursuits once regarded as rowdy and elitist were viewed more positively; rowing was widely regarded as an excellent discipline, while football brought together young men from across the social spectrum.
Although at Keble there was some anxiety that subscriptions to the amalgamated clubs might be a drain on the poorer students' finances, and at the outset they were not compulsory, there was no doubt that the College Clubs had the first call on their cash: 'The credit and reputation of the College is an object which each may rightly prefer to his own private taste and indulgence and is unquestionably affected by the position of the College in amusements'. An early priority was the acquisition of a sports field. The land opposite St Edward's School was leased from the Duke of Marlborough in 1871, and purchased in 1893 at a cost of £2,750. The present cricket pavilion dates from 1903 replacing the inferior structure of 1872.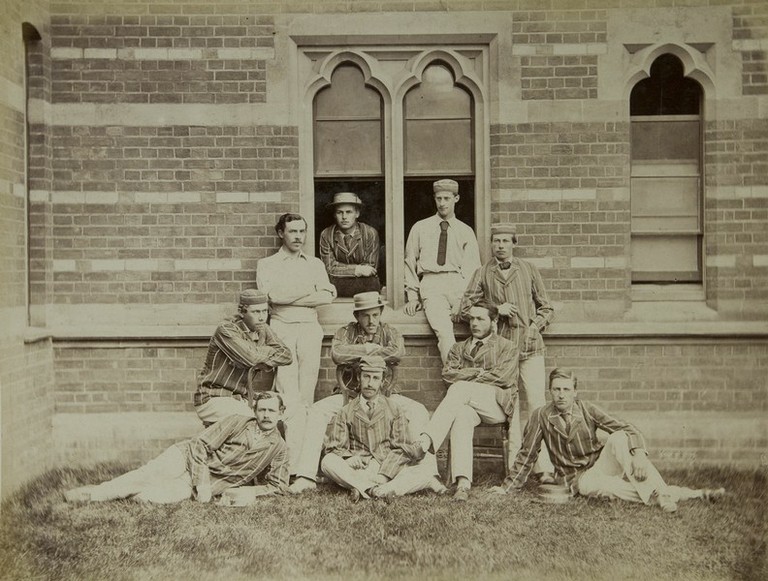 Cricket XI, 1873
In Keble's early decades there were clubs for cricket, rugby ('rugger'), athletics and football ('soccer'). Other students played golf. Participation rates were high – 69 of the 167 men entering the College between 1891 and 1893 played for a first team – but Keble did not enjoy noted success in inter-collegiate competitions. In addition to playing other Oxford colleges, there were regular fixtures against Cambridge colleges and against non-university teams, both in the region and occasionally on tour. 27 Keble students won blues between 1906-1915, in running, high jump, cross-country, rugby, football, hockey, swimming and water polo.
It was not uncommon at the time for Oxford students to represent their country or play at higher level, often while at university. There was a steady stream of Keble rugby players in the Home Counties, alongside the odd footballer, hockey player, and athlete. William Pollock-Hill (1886) held the English record for 1,000 yards and Sydney Sarel (1982) competed in the 3500 metre walk at the 1908 Olympics.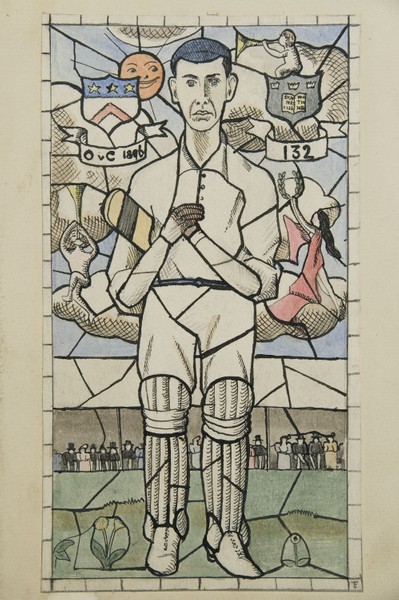 Sporting heroes G.O. Smith (Keble, 1892), England international footballer, spoof design for stained glass window from JCR cartoon album
Keble's finest sportsman of the 19th century was undoubtedly Gilbert Oswald Smith (1892), described as 'the greatest centre forward of all time' by The Times. Capped over 20 times for England, starting when he was still up at Keble. G.O., as he was popularly known, scored a hat trick against Ireland in five minutes and led the side that beat Germany 12-0 in 1901. He played for the country's leading amateur side, the Corinthians, scoring a record 113 goals in 141 matches. Keble produced another England international footballer, Robert Topham (1886), who played alongside Smith for England.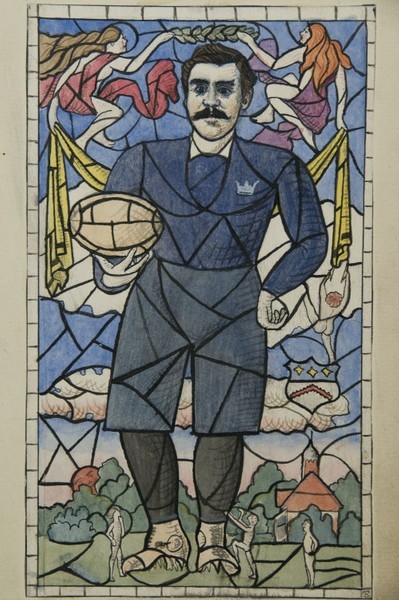 Sporting heroes E.M. Baker, (Keble 1893), Varsity rugby player, spoof stained glass window design from JCR cartoon album
Although Keble gained a reputation for its footballers, if there was one dominant sport in college, it was probably rugby. Keble was strong in the 1910s – the XV reached the Cuppers final in 1914, and there were four Keble students in the Oxford side in 1912. The rugby club enjoyed the support and coaching of F. W. (later Canon) Matheson, who was a Keble undergraduate in 1902 and stayed on to be Dean of the College. The most outstanding player of the time was Arthur James ('Jimmy') Dingle (1910), capped three times for England, and nicknamed 'The Mud'. After a memorable try against Cambridge The Clocktower said of him that "You are, perhaps, the most popular Rugger man in the Varsity with the 'townees', and equally popular with members of the fair sex.". Dingle joined the East Yorkshire Regiment in 1914 and, now Captain, perished at Gallipoli.
Written by Dr Ali Rogers, Senior Tutor
back to features