History Features
One student's experience, 1908-1912
To get an impression of what student life was like at a particular time, it is necessary to look at various different types of records. College and University publications, whether official or not, can be invaluable for this kind of research but only provide the broad strokes.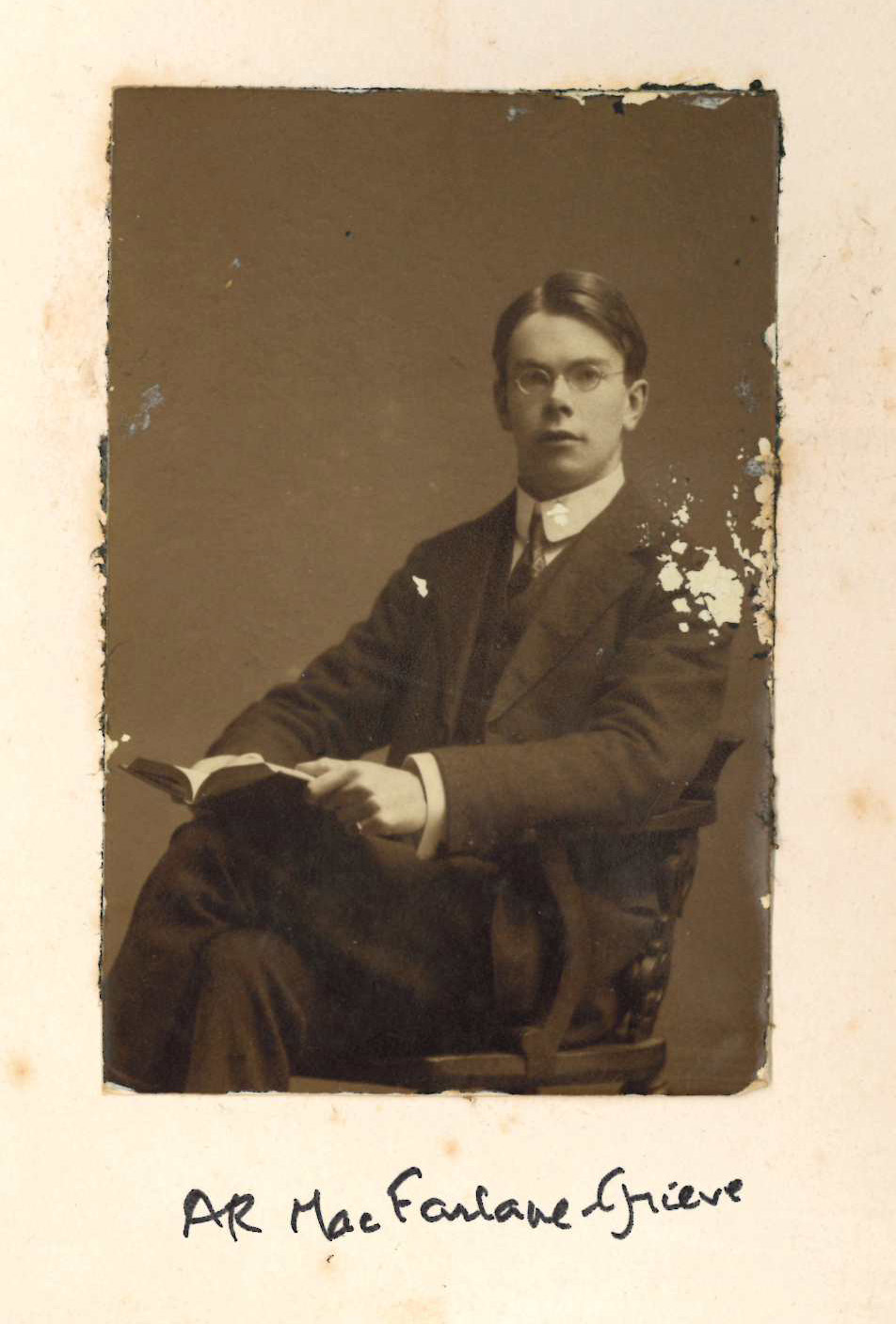 Alwyn Ronald Macfarlane-Grieve (AD 143/1)
Photographs can show how students and their surroundings looked, as well as some of their activities. JCR records give some indication of the activities of the student group collectively. While no two students will have the same experience of Keble College, it can also be useful to look at one or two individual students from that era as a case study.
For such a case study of a student's experience from the early twentieth century, the archives hold a considerable amount of information relating to the student lifestyle and interests of Alwyn Ronald Macfarlane-Grieve, not least because of a fascinating collection of receipts given to the archives in May 2021 (ref no: AD 384/1).
Alwyn Ronald Macfarlane-Grieve was born on 22 May 1888. His father, William Alexander Macfarlane-Grieve, lived at Impington Park, not far from Cambridge. Having been educated at the Perse School, in Cambridge, he came up to Keble in Michaelmas 1908 and received the Louisa Wakeman exhibition, with a value of £40. He received 2nd class in History in his Second Public Examination and a B.A. in 1912.
His receipts include payments to the College for Buttery Accounts and Terminal payments. One Buttery Account receipt, dated 4 May 1909, includes a £2 fine, although it is not clear what that fine was for.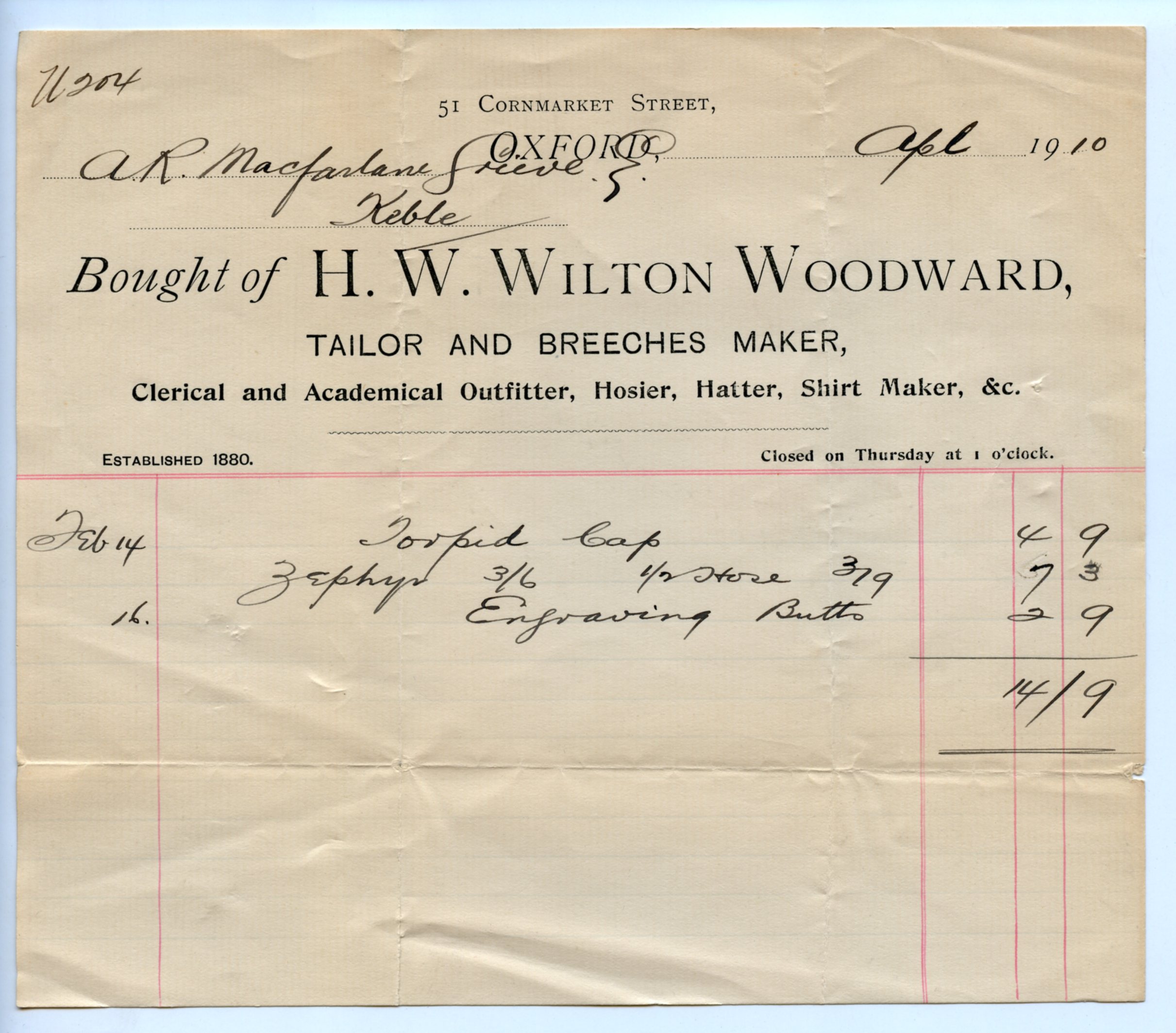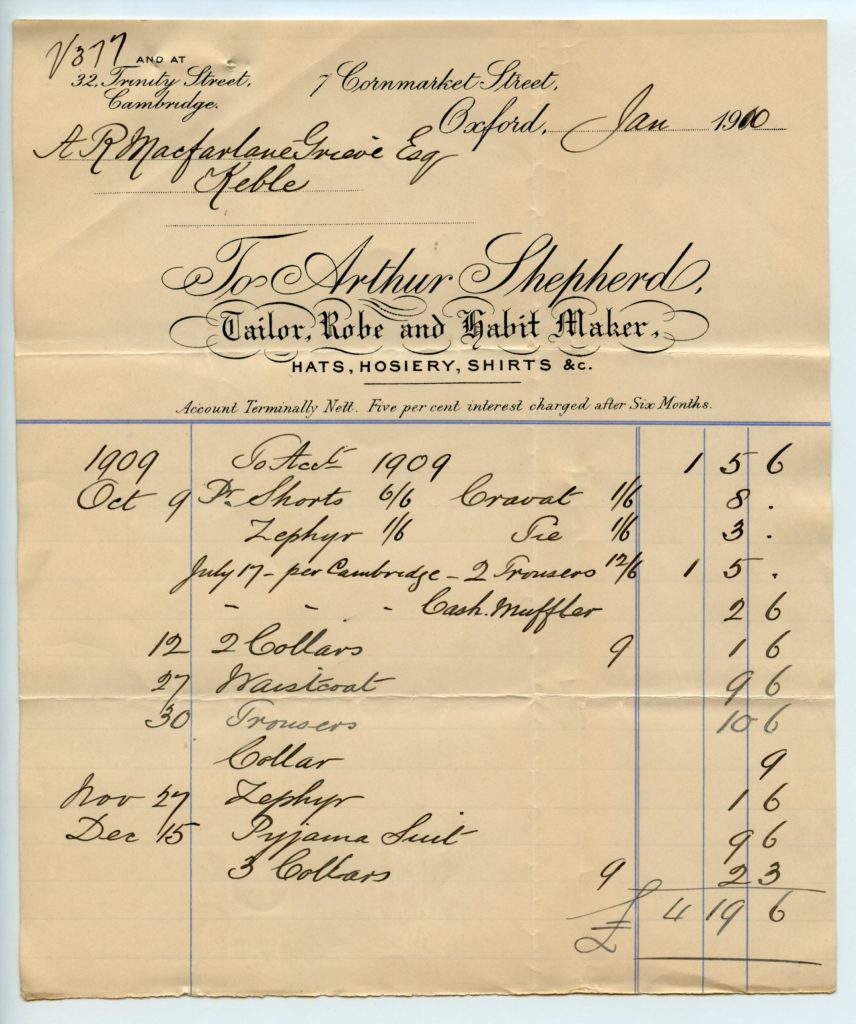 Receipts from H.W. Wilton Woodward, April 1910 (AD 384/1)
and Arthur Shepherd, January 1910 (AD 384/1)
Receipts for clothing show some continuity in student life from then to now, with Macfarlane-Grieve having bought clothes from Arthur Shepherd and H.W. Wilton and Woodward (which subsequently merged to form Shepherd and Woodward). Aside from the fact that you would not generally find students wearing cravats now, the most obvious difference is perhaps the listing of shirts, collars and cuffs as separate items. Whatever students sleep in now, it is unlikely that they are described as 'pyjama suits', which he appears to have worn. His purchases from Arthur Shepherd also included a blazer and crest.


Entry in Boat Club Captain's Book, Lent 1912 (KC/JCR 2 B2/1/4)
Macfarlane-Grieve appears to have been a keen rower, in the 1st torpid of 1912. Unfortunately, a 'Characters of the 1st Torpid' entry in the Captain's book for 'Lent 1912 [sic]' (KC/JCR 2 B2 1/4) suggests that his talent as a rower did not match his enthusiasm. Receipts from 1909 and 1910 show the purchase of 'zephyrs' (the iconic traditional style of rowing shirt, akin to a modern Henley t-shirt) and a torpid cap.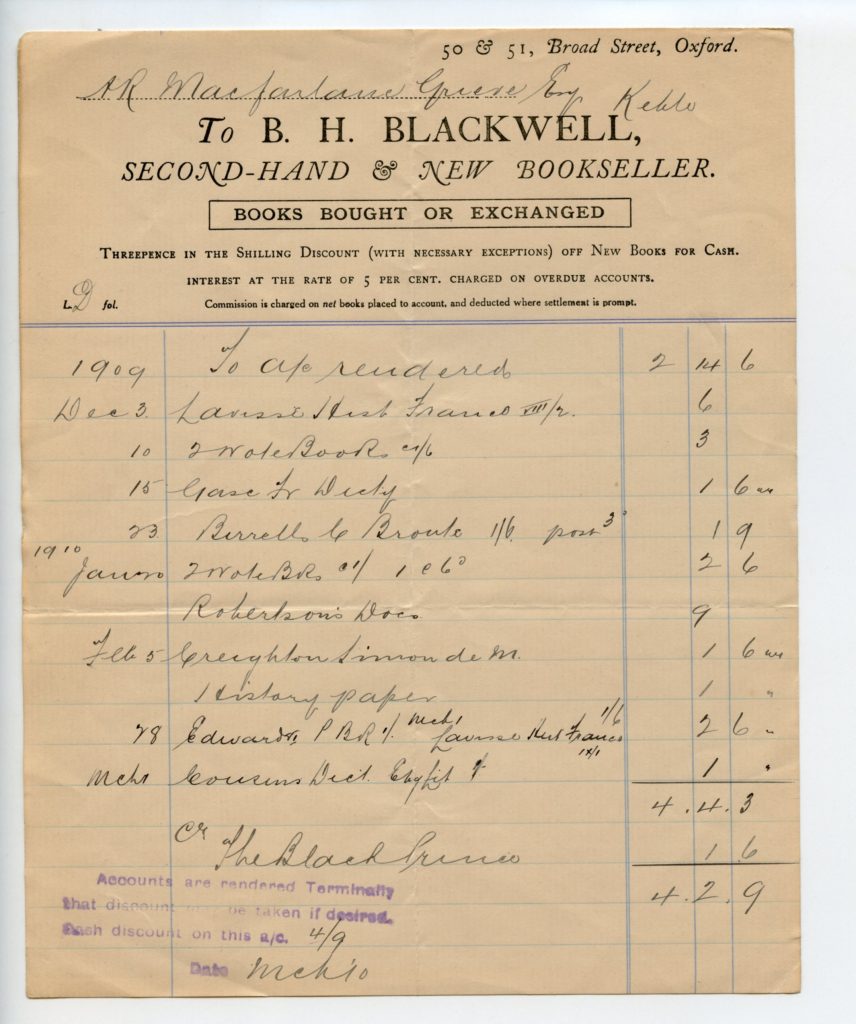 Receipt from B.H. Blackwell, March 1910 (AD 384/1)
A photograph of Macfarlane-Grieve holding a book, opposite a photograph of the Essay Club taken in June 1913 in a photograph album compiled by J C Poole (AD 143/1), hints at more scholarly interests, which are borne out in Macfarlane-Grieve's receipts from various bookshops. One receipt from B.H. Blackwell (50-51 Broad Street, Oxford), dated March 1910, lists his purchases there over the preceding term. The details of the books are not given in full but appear to include
Lavisse, Ernest, Histoire de France
Gasc's French Dictionary
Birrell, Augustine, Life of Charlotte Brontë
Robertson, C. Grant (ed.) Select statutes, cases and documents to illustrate English constitutional history, 1660-1832 : with a supplement from 1832-1894
Creighton, Mandell, Life of Simon de Montfort, earl of Leicester
Cousin, John William, A short biographical dictionary of English literature
Creighton, Louise, Life of Edward the Black Prince
If these have been correctly identified, they suggest Macfarlane-Grieve's reading was eclectic and encompassed both English and French history, as well as English Literature. They also hint at a 'constitutional' emphasis in the History syllabus.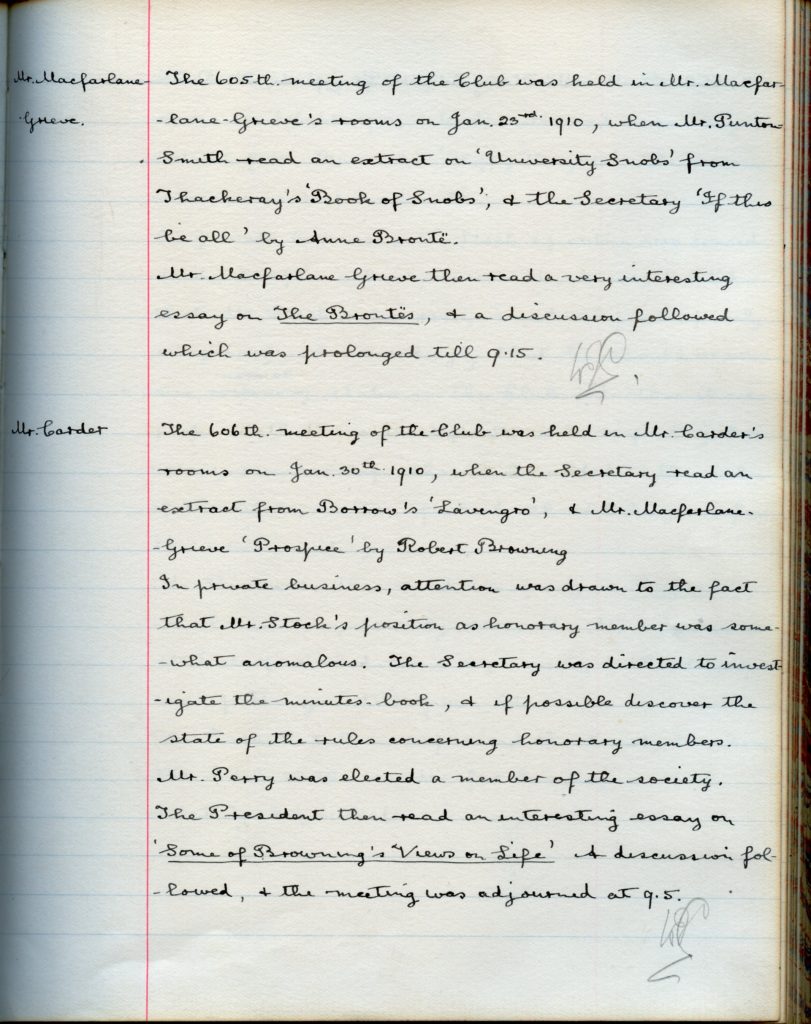 Essay club minutes, 23 January 1910 (KC/JCR 2 E2/1/3)
Macfarlane-Grieve first appears in the minute book of the Essay Club (KC/JCR 2 E2/1/3) in Michaelmas 1909. He read an essay entitled 'The Brontës' on 25 January 1910, in the club's 605th meeting, which was held in his rooms.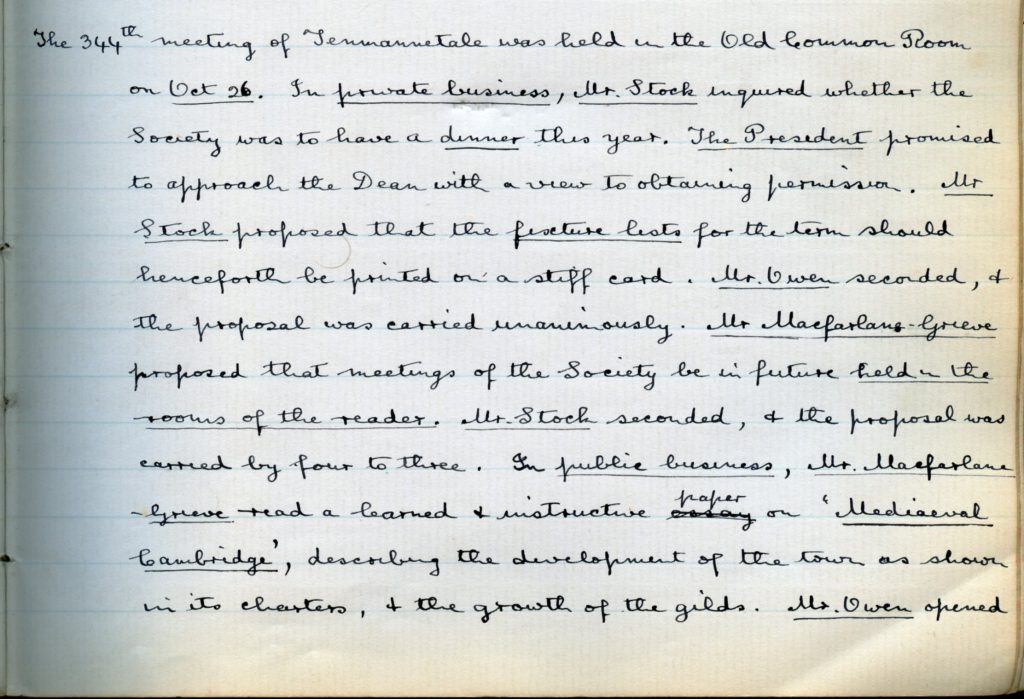 Tenmantale minutes, 26 October 1909 (KC/JCR 2 E4/1/1)
He was also a member of Tenmantale history society. The entry for their 344th meeting, held on 26 October 1909, notes that he read a 'learned and instructive paper on 'Mediaeval Cambridge', describing the development of the town as shown in its charters'. His chosen topic may reflect the fact that he was brought up in Cambridge. He went on to become the society's Secretary and then President.
Not every student will have shared Macfarlane-Grieve's lifestyle or interests but the traces of his life which can be found in the archives do give an impression of student life in the years leading up to the First World War.
While in Oxford, Macfarlane-Grieve had been a member of the University Contingent of the Officers' Training Corps. After leaving Keble, he became a student and lecturer at Rennes University, 1912 – 1913. Following a brief period working near Cambridge, he commenced military service on 3 November 1914. Initially, he was a Second Lieutenant in the Perse School Officer Training Corps, before becoming a Lieutenant in 1915 (Instructor of Young Officers at Cambridge, then 8th Battalion Argyll and Sutherland Highlanders). He served in France, in 1916 – 1917. He was killed in action at Rodincourt, near Arras on the 17 March 1917.
Details of Alwyn Ronald Macfarlane-Grieve's short life after his graduation and a further image of him can be found in our Roll of Honour.
Written by Peter Monteith, Archivist & Records Manager
Back to features